Nina Wara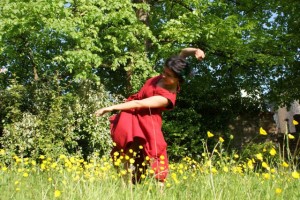 Since the age of three, dance has been an integral part of my life. Starting with classical and Latin American traditional styles, I then moved to contemporary and stayed there for a while. I went to my first CI class in La Paz, Bolivia (hometown) and felt positively overwhelmed 🙂 wow… dance can be this! it is!
Not long after I moved to the UK and completed a dance degree. I moved to Bristol to study Dance Movement Psychotherapy and now, having completed my first year of training I am taking time out to touch base with what REALLY moves-inspires-nourishes-challenges me and what I have to offer to the wider community.
Past years of formal training have left me with a real need to access other forms/ways/states of embodiment, expression, physicality and connection to myself, people and nature. At present I have a thirst for developing my skills and practice with a somatic approach to movement, healing and discovery. Shin Somatics, Body Mind Centering, Authentic Movement  and voice work have been my main influences in this field. Thank you life!

Contact
Mobile: 07962 900407