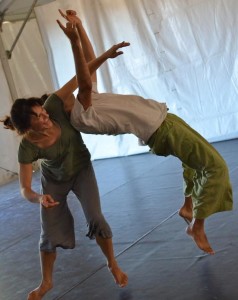 Saskia first met Contact Improvisation in 2007. Since then she has attended workshops and events all over the world. She has studied with a number of inspiring CI teachers, including Nancy Stark-Smith,  Martin Keogh, Angela Doniy, Charlie Morrissey, Ray Chung and Daniel Lepkoff and so many other wonderful dancers and teachers over the years.
Saskia has worked as a massage therapist since 2002 and qualified as a craniosacral therapist in 2010.
She has organised many CI events and classes in Bristol and beyond and began her journey into the world of teaching CI in 2011.

"I love to be surprised and delighted in the moment. I love that sense of responding in new and unexpected ways; finding moments of synchronicity, feeling my body respond instinctively, exploring the world in 3D, enjoying the expanded possibilities generated through meetings with other bodies, that sense of creative play."
Contact
mobile: 07904 121646, email: saskia@contactdance.co.uk, website: massageinbristol.co.uk