Visiting Teachers
Below lists some of the teachers who have visited Bristol in the last few years to offer CI classes or workshops:
Edinburgh
Janis Claxton (UK/Aus): is a choreographer, teacher and performer based in Edinburgh. Artistic Director of the award winning company Janis Claxton Dance, she is an internationally renowned and prolific teacher with over 30 years of experience in professional, educational and community settings. As well as Contact Improvisation Janis' influences include the Erick Hawkins Modern Dance Technique, Martial Arts and Alexander Technique. An avid movement researcher, she has practiced Contact Improvisation for over 20 years having studied, taught and performed the form in numerous settings and all of her teaching and choreographic works have been informed by this experience. Janis has choreographed for companies and independent dance artists in the UK and China where she has worked extensively on numerous projects including introducing Contact Improvisation to Chinese professional and community dancers. Janis Claxton Dance make work for theatre spaces as well as unique site-specific settings such as the Edinburgh Zoo which housed the Herald Angel Award winning Enclosure 44 – Humans a two week improvised performance. Janis is currently undertaking part-time studies towards a Masters in Philosophy (Choreography) at the Edinburgh University. www.janisclaxton.com
Falmouth
Malaika Sarco-Thomas: is a performer, researcher and teacher of improvisation. Originally from the USA, her practice is informed by teachers such as Kirstie Simson, Charlie Morrissey, David Zambrano and an ongoing study of Ki Aikido. After training at PARTS in Brussels and recently completing her PhD thesis Dance Improvisation Performance as a Practice of Ecology she became Award Leader for Dance at University College Falmouth incorporating Dartington College of Arts. With Richard Sarco-Thomas she co-organizes weekly contact jams at Tremough Campus and the annual Contact Festival Dartington.
Contact: Malaika.Sarco-Thomas@falmouth.ac.uk
Liverpool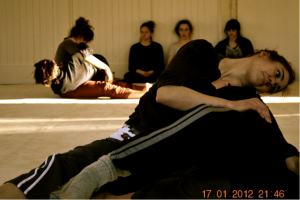 Mary Pearson: is a performance maker, dancer, teacher and organiser based in Liverpool, UK. In 2005 she co-founded Fool's Proof Theatre, with whom she has toured nationally internationally in the UK/USA with their devised work. She is currently touring her solo show called FAILURE and facilitating interdisciplinary improvisation workshops called FAILURE Lab.
Mary has guest taught CI, Improvisation, Choreography & Performance at Liverpool Hope and Liverpool John Moore's Universities (2009-2011) and has facilitated at various artist exchanges in Europe/US including: Ponderosa /P.O.R.C.H 2011/12, E/merge interdisciplinary artist residency Earthdance 2011/12, and E.C.I.T.E 2011/10. She leads ongoing CI classes in Liverpool in association with Liverpool Improvisation Collective.
Mary earned her B.A. in English Literature & Studio Art from Oberlin College (USA) and studied physical theatre at Kiklos Teatro International School of Theatre Creation (Padua, Italy). She has trained extensively in dance and diverse movement forms since always – including ballet and modern dance, yoga, capoeira, and CI.

Contact: mpearsonater@yahoo.com, www.foolsprooftheatre.com/company_members
London
Anne-Gaëlle Thiriot: Anne-Gaëlle grew up in Burgundy, France. She started getting involved in dance and performance in 1999 while studying Geology in Jussieu (Paris). She went on getting an MA in Movement Education in Bologna, Italy. She worked as a movement therapist and a dance teacher alongside her studies of contemporary techniques, Instant composition, yoga and Body Mind Centering in Paris, Italy, Israel and the UK. She met Contact Improvisation through the work of Didier Silhol, Kirstie Simson and Mark Tompkins in 2001, and she kept studying with them and Lisa Nelson, Simone Forti, Julyen Hamilton, KJ Holmes, among others. Graduated from Laban in 2008, she is currently finishing a 3y. specialist programme in Choreological Studies there. She is interested in the way we embody dynamic, relationship, spatial and social structures and how we develop our sense of empathy through movement awareness. As an improviser and dancer, she has worked with H2Dance, Giannalberto De Filippis and Michal Mualem (Sasha Waltz and Guests), Joe Moran, Plan B, Tadam/Noa Zamir, and she regularly teaches for City Lit and Candoco. Currently based in SE London.
Contact: anga.thiriot@gmail.com, www.annegaellethiriot.tumblr.com
Daniel Mang: Contact improvisation has been my primary movement practice since 1986. I have studied with Bruno Stefanoni, Dieter Heitkamp, Ka Rustler, Kurt Koegel, Howard Sonenklar, Nina Martin, Benno Voorham, Nancy Stark Smith, K J Holmes and many others. I also practice aikido and am strongly influenced by the Feldenkrais method, Body Mind Centering and ideokinesis. My teaching is informed by my background as a professional bodyworker / physiotherapist, my studies in osteopathy, my experience with communication tools such as co-counseling, and by my politics. I see my interest in radical social theory and my love of contact improvisation as two aspects of the same desire. I am involved in making CI available as a way of exploring body politics, as a tool for communication and personal change, to radical left, feminist, queer and antiracist activists. I have been teaching the form since 1990 – at first mostly in Berlin, from 2005 on primarily in the South West of France, but also in Belgium, Italy, Latvia, Romania, Spain, Sweden and the UK. I am fluent in English, German and French and regularly teach in these three languages. I was one of the organisers of the "European Contact Improvisation Teachers Exchange" (ECITE) in Potsdam in 1999 and participated in ECITEs in Denmark, the Netherlands, the UK, Sweden, Switzerland, Finland and Spain. From 2005 to 2011 I was part of a small network of contact improvisation teachers in Toulouse that organized jams, classes and workshops locally. Since my move to the UK in July 2011 I have been teaching mainly in London, but also in Brussels, Paris and Toulouse. I was centrally involved in organising a very successful first week-long contact improvisation festival in London over the New Year 2011/2012, and in organising another, similar festival, also in London, in the summer of 2012. I am very much looking forward to teaching in Hong Kong, Singapore, Malaysia and Australia on my first world tour this winter!
Contact: danielmang@gmail.com, www.danielmang.com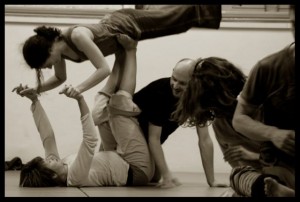 Jenny Moy: What I love about Contact Improvisation is that there's no syllabus, no standard way to learn, no qualified teachers. The lab format celebrates that – dancers coming together to share, experiment and review: all teachers, all learners. London currently has a weekly labbing group, exploring themes like mixing Contact with Authentic movement or Acroyoga. I'd like to make a link between the London lab and Bristol: sharing some of our ideas and exercises and taking back more questions and discoveries.
Contact: jenny@kensington-unitarians.org.uk
Rick Nodine: After completing a degree in biology, Rick went on to study contact improvisation with the pioneers of the form. He began a performing career in the early 90s, and In 2001, he became a member of staff at London Contemporary Dance School where he teaches composition and improvisation.
For the past 15 years Rick has collaborated with dancers, actors, musicians and designers to create improvised performances.
As a guest teacher Rick has been invited to teach in 10 countries and more than 30 cities and this year he has been selected as a Key Teacher to represent the UK in the international IDOCDE project, a Contemporary dance education documentation project.
Recent Choreography has been for The National Theatre, Glyndebourne Opera, Shift, Edge, Coventry University, Devon Youth Dance, LCDS and he is a 2013 Place Prize Finalist.
Contact: rick.nodine@theplace.org.uk
Robert Anderson: is an independent dance artist based in London. He teaches improvisation and contact improvisation in Higher Education and in a variety of settings in the UK and abroad.
Robert has studied dance improvisation since 1996 with leading teachers from the US and Europe (including Kirsty Simson, Angus Balbernie, Nancy Stark Smith, Martin Keogh, KJ Holmes, Steve Paxton, Julyen Hamilton, Ray Chung). After gaining a BA Dance and Culture at the University of Surrey, in 2000, he spent six months in San Francisco to train in contact and improvisational dance. Since 2001 Robert has been teaching and facilitating contact improvisation classes, jams and workshops in London. Robert has taught at international improvisation festivals in Germany, Israel, Poland, Russia and Italy and participated in co-teaching gatherings in Estonia, Sweden, Finland, Scotland and Austria. He was a curator for the CI36 celebration in Pennsylvania (2008) and part of the organising team for ecite09 in Ormskirk, England (2009). He has performed in work by Jia-Yu Corti, Joe Moran, Kate Brown, Tino Seghal, Jovair Longo, Meghan Flannigan, Margot Henderson, Lalitaraja and Sarah Shorten. He currently performs with Touchdown Dance and the improvisation collective SoFt. His classes invite a sense of pleasure, play and poetry for the dancing body.
Contact: robert@contactimprovisation.co.uk,  robertandersondances.blogspot.co.uk
Manchester
Katy Dymoke: is a Professional dancer / improviser, working nationally and internationally she has also worked in collaboration with Julyen Hamilton, Angus Balbernie, Ray Chung, Lisa Nelson and Steve Paxton. Dance Film maker, (including a major Capture award to make a 10 minute film of contact improvisation called SENSE-8) she established the NW digital dance forum in 2002. A dancer and company director with Touchdown Dance, BMC practitioner and Teacher, (setting up the BMC school program in the UK in 2007 as well as a performing arts program with Mark Taylor (U.S.) in London. Katy is a registered Dance Movement psychotherapist, and 3rd Dan in Jujitsu.
Contact:  touchkate@aol.com, www.embody-move.co.uk
Photographer: Eric Richmond
Oxford
Lucia Walker: has been practicing and teaching Contact Improvisation since 1986. She first encountered the form in workshops with Steve Paxton, Nancy Stark-Smith and Kirstie Simson. In 1987 Lucia qualified as a teacher of Alexander Technique and teaches the technique to individuals, groups and on teacher training programmes in England, Germany, US and Japan.
Lucia worked for many years with Jointwork Dance Group exploring improvised performance and continued this research with Telling Times International Theatre project. She also works on performance collaborations with other artists and dancers Attention, vitality and curiosity are central to her work as a teacher and a performer.
Winchester
Suna Imre: is a dance artist and senior lecturer at Winchester University.  Specializing in improvisation that comes from the application of somatic dance practices, Suna creates inter-disciplinary performances and projects that are often site-specific. She has had a passionate curiosity for Contact Improvisation for over twenty years, learning from many great teachers including Nancy Stark Smith and is constantly surprised and excited by its potential for helping us connect with ourselves, those around us and the world we live in.
Elsewhere
Angela Doniy: is a dance improviser, choreographer and a teacher oriented to contact improvisation and contemporary dance. She was born in Kishinev, Moldavia. She was educated at the High School of Culture, St-Petersburg. After graduation in 1985, she was a theatrical choreographer for 10 Years. Since 1999 she is living in Moscow, and teaching Contact Improvisation, Improvisation and Movement Development.
Since September 2006 she has been the organizer and leader of a project of research, experiment and exchange which aims to support and develop the teaching and performance of Contact Improvisation and Improvisation in Moscow. She organises the yearly, nine day, International Contact Improvisation and Performance Festival in Moscow which includes an improvisational performance night in a central Moscow Theater.
Contact: www.angeldance.ru
Daniel.J. Hayes: is a Medical Doctor, public health scientist, eco-anarchist and practical idealist who has been playing, dancing, meditating and conversing CI for over a decade and has been actively sharing his curiosity and knowledge for the past five years. He is the founder of the Touch&Play Project, which explores the edges of Contact Improvisation by inviting our alchemical bodies (emotions, fears, fantasies, thoughts, sexuality) into the dance. He engages with Contact Improv as a practice and tool to create authentic connections to the self and the other. He was further one of the core organizers of the 1st Spanish Contact Teachers and Organizers Meeting (EMOCIE) and the first ever ECITE held in Spain. His current interest is to open-up 'classical' CI and to take the form out of the Dance world and into the realms of play, meditation, communication, BDSM, healing, education, sexuality and more through rigorous artistic and academic research.
Contact: daniel@touchandplay.org
Javier Cura: is an argentine american multidisciplinary artist. He has dedicated himself To the Fine Arts creating several art exhibitions of objects, sculptures and installations. He has performed, directed and created drama shows in Argentina, Colombia, USA, Italy and Indonesia. He's been teaching drama, physical theatre and Contact Impro in England, Italy, France, Germany and Argentina. He's been invited to teach and perform in the International Contact Improvisation Festivals in Orvieto(It) and Freiburg (Ger) and at WCCIF(USA). His last piece that merges tango and contact impro in a physical theatre context was presented in Prague's Dance Theatre "Farma Festival". It was also presented in Italy (Terni), at the "Travolgente Festival" (2007), and in Argentina(2008).
Contact: www.javiercura.com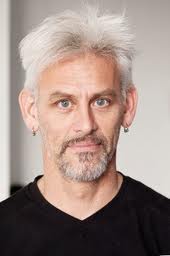 Jess Curtis: has created a body of work ranging from the underground extremes of Mission District Warehouses with Contraband and CORE (1985-1998) to the formal refinement and exuberance of European State Theaters and Circus Tents with Compagnie Cahin-Caha and Jess Curtis/Gravity (1998-present). Often working within a paradigm of collaboration and co-authorship, he has also produced thoughtful and engaging work with a number of innovative artists including Maria Francesca Scaroni, Jörg Müller, Claire Cunningham and the FabrikCompanie in Potsdam, Germany. He has been commissioned to create works for companies such as Artblau in Germany, ContactArt in Milan, Italy, Blue Eyed Soul Dance Company in England, and Croi Glan Integrated Dance in Ireland. Recently awarded the prestigious 2011 Alpert Award in the Arts for choreography, Curtis and Gravity have received a total of six Isadora Duncan Dance awards and a Fringe First Award at the Edinburgh Fringe Festival for fallen, which went on to tour to over 40 cities in 9 countries. Curtis teaches Dance, Contact Improvisation, and Interdisciplinary Performance throughout the US and Europe and has been a visiting professor at UC Berkeley and the University of the Arts in Berlin. He holds an MFA in Choreography from UC Davis and is currently a Ph.D candidate in Performance Studies there, focusing on embodiment and performativity in movement-based performance.
Contact: www.jesscurtisgravity.org
Malcolm Manning: I think of myself as a somatic movement researcher, educator, mentor and artist. In my classes, I share my inquiry of what it is to be a thinking, feeling, moving subject in this world through developing a dialogue with ourselves and our environment in which we are empowered to be our own experts.
I am certified to teach the Feldenkrais Method® and the Body And Earth work developed by Andrea Olsen and Caryn McHose. I studied for two years at SNDO Amsterdam and have an MA in Dance Pedagogy. I have also made extensive studies of Contact Improvisation, Authentic Movement, Movement Shiatsu, Body Mind Centering and experiential anatomy. For more info visit  www.movetolearn.com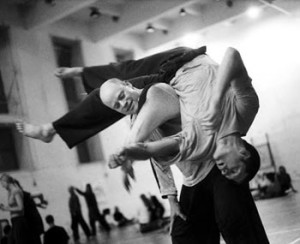 Martin Keogh:  has taught and performed contact improvisation for over thirty-one years. For his contribution to the development of the form he is a Fulbright Senior Specialist and listed in Who's Who in the World. After attending the Interlochen Arts Academy and Stanford University, Martin spent time traveling to monasteries in Japan and Korea and was the director of the Empty Gate Zen Center in Berkeley before discovering the world of dance.  He is one of the original members of the Motivity Dance Company, which specializes in aerial dancing on low level trapezes.  Martin is cofounder of Spring/Fall Dance Studio and The Dancing Ground, an organization that produces conferences on gender and mythology in Northern California.  He's worked with Touchdown Dance USA, an organization that teaches C.I. to the blind.  Keogh is the author of The Art of Waiting, As Much Time as it Takes, and the currently released: Hope Beneath Our Feet: Restoring Our Place in the Natural World. More info at: www.martinkeogh.com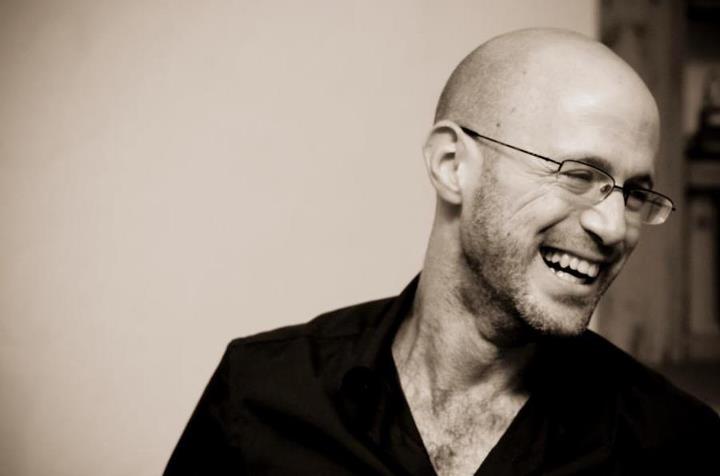 Tom Goldhand: is a performance artist in the field of Dance & Contact Improvisation. He studied  Dance and Theatre Improvisation in Israel at "Hakvuza Beyafo" and "Play School for Improvisation". His work is influenced by the teachings of Ohad Naharin (Gaga movement language), Julyen Hamilton, Paulien de Groot, David Zambrano and Karl Frost, amongst others.
In the last few years Tom has been performing and giving workshops on the technique of Improvisation in Dance and Contact. In 2010 he moved to Amsterdam and co-founded with 5 other performance artists the group Mono Collective, who perform free and anchored Improvisation pieces as well as choreographed set pieces.
Tom gives weekly classes of Dance and Contact Improvisation in Amsterdam. "For me, Improvisation is a way of life and I try to take it out of the studio into everyday life. I believe that the core of man spirit comes from new experiences."
"You cannot teach an old dog new tricks, but you don't have to be an old dog"
For more information, go to www.tomgoldhand.com.