Jamus Wood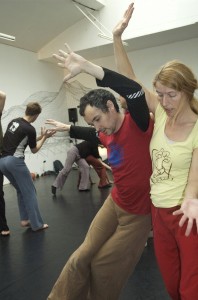 I love to move, to inspire creativity through dance and connection. I guide classes in Contact Improvisation, Instinctual Movement, Somatic Yoga and perform with the Touch Down Dance.
I like it simple. I find that working with simple themes can take us deep into our own experience and are pathways to presence and embodiment. So themes I work with like arriving, how do we arrive into contact with ourselves, into a space and with another. I find this a fascinating topic.
Unusually, my path has been defined by a congenital eye condition – I almost lost my sight 10 years ago. Six operations on, my sight is improving, with future operations pending. I have found ways to transform my wounding into a unique gift. My life is not what it would have been without my eye condition, many doors initially shut, while others opened.
Along my journey, I have had the good fortune to work with many gifted teachers, many echo's of these teachings live in my teaching today. Key figures are Malcolm Manning, Helen Poyner, K J Holmes, Lisa Nelson, Nancy Stark Smith, Miranda Tufnel, Katy Dymoke, Adam Bradpiece, Ray Chung, Angela Dony.
If you want to know more check www.embodiedpresence.co.uk.
Contact: 07908 582791 or email: embodiedpresence@gmail.com